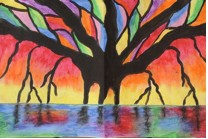 LESSON PATTERN INSTRUCTIONS
COLOR 
BLAZING BANYAN TREE
Lesson Objectives: Students will learn about color while creating an intertwining banyan tree.
Time Required:  2 sessions 
Artist: Ricardo Ruiz, El Corrido del Mocho Eugenio, Mathis, Texas
Source: Dynamic Art Projects for Children, pgs 38-40
Materials (Day 1):
White construction paper 12×18
Black tempera paint
Paintbrushes
Materials (Day 2):
Oil pastels
Wet Ones 
Presentation:    Discuss color. Discuss line: the branches of the banyan tree. Show pictures of banyan trees so students can see the intertwining nature of the branches.
Procedure, Session 1:
Pass out paper. Write names on back. Orient horizontally.
With pencil, guide students in drawing a banyan tree. (There are great directions for this on pg 39).
Paint with black tempera paint.
Procedure, Session 2:
Pass out the banyan trees. Color in the banyan tree with oil pastels.
Heavy application will result in more vibrant colors.
Show students how to blend two colors in one space using a finger.
Create water reflections of the branches using black oil pastel and reflections of the sky with multi-colored pastels.
If necessary, go over the tree trunks and branches with black oil pastel.