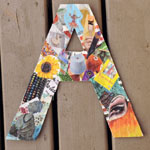 LESSON PRESENTATION INSTRUCTIONS
COLLAGE 
A IS FOR ART
Lesson Objectives: Students will learn about collage.
Time Required: 1 hour
Artist: Mary Ann Jones, El Rancho Lounge and Twist Palace
Materials:
Students' first initial cut out of tag board or card board
Old magazines and catalogs
Scissors
Elmer's glue
Q-tip
Presentation:
Discuss collage. Demonstrate how the larger cut-out pieces should be glued on first while smaller pieces can go on top. Otherwise, the small cut-outs will be completely covered up by the larger ones. Instruct students to make a collage that represents them: their interests, hobbies, favorite colors, etc.
Procedure:
Pass out initials and magazines.
Have students cut out all their pictures first.
Glue down the larger pieces first, then the smaller ones, completely covering the cardboard. It's OK if the pictures hang over.
After the glue has dried, trim off the excess to re-define the initial again.
Seal in with Mod-Podge if desired.